About Red Star's trainers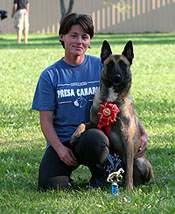 Irina Shimko
Irina, who is a Ukrainian native, has been training in Military Sports with Working Dogs (pentathlon) since 1981. In 1984 she became a member of the Ukrainian National Team and 1985, she took the title of a Ukrainian National Champion. Since 1987, she has been a professional trainer of working dogs. Later on – Irina became co-owner of a renowned training school. Since relocating to the USA in January of 1993 Irina has opened a boarding, training and breeding facility. She has since rehabilitated and trained over 2000 dogs to date. Irina has also achieved titles in the sport of French Ring with 4 dogs. Red Star Lutiy-Ring I(Presa Canario), Red Star Jetta-brevet(Presa Canario), Victory du champs des Legendes-Ring III(Belgian Malinois), and Red Star Dangermouse-Ring II(Belgian Malinois
Today Red Star Kennel is 20 years old, and is a one-of-a-kind Boarding & Training Facility, famous all over the world for its high caliber training, and breeder of working Presa Canario and Belgian Malinois.
Mark Keating
Mark has been training dogs professionally since 1998 in various forms of obedience, agility and protection work. He works and trains primarily at Red Star Kennel in Hudson, where he serves as one of 2 trainers who conduct private lessons, teaches sport classes, and handles and trains dogs who stay for the boot camp program.
Mark is a retired competition French Ring/Mondio Ring certified trial decoy. Having officiated in over 35 trials Mark won the 2007 Decoy Super Selection amongst the American decoys. Mark has also titled two dogs in Ring, as well as coached numerous teams in competition preparation.
Since 2004, Mark has been training exclusively at Red Star Kennel, in Hudson Wisconsin. Mark teaches private lessons in obedience, behavior problems and modification, competition preparation, sport style obedience, protection work, search work, puppy imprinting and socialization, puppy/dog purchase consulting.
Mark has taught numerous seminars across the US in sport style bitework in sports such as French Ring, Mondio Ring, PSA, and Schutzhund. Mark has also conducted seminars with with Police Departments teaching handlers how to not only decoy and work each others dogs, but communicate more clearly with their own dogs. Mark has also taught seminars in drive cultivation and channeling for State, as well as FEMA certified Search and Rescue teams.